Secapp for alerting helps you easily reach entire teams with individual messages, share critical information, and quickly receive reactions to messages. You can create teams and groups based on people's skills, work teams, or depending on the situation. This way you don't have to call people individually and congest phone lines, for example, in exceptional situations.
With Secapp, you can prepare for exceptional situations in advance by creating message templates for different scenarios. This allows you to react quicker in a critical situation. High-priority Secapp alerts bypass silence settings and demand instant response. Recipients can also see each other's responses to messages, which helps in maintaining situational awareness. 
Reach the right teams and groups in seconds
Ready-made message templates let you react quicker to incidents end irregularities
Communicate securely in every situation
5 reasons to start using Secapp for alerting
Reach groups and teams of different sizes quickly with a single message.

Ready-made alert and message templates accelerate reacting in exceptional situations.

Target alerts accurately based on different attributes, such as skills, location, or availability.

Keep relevant stakeholders updated during crisis situations, and maintain situational awareness

Omnichannel alerts ensure the delivery of information.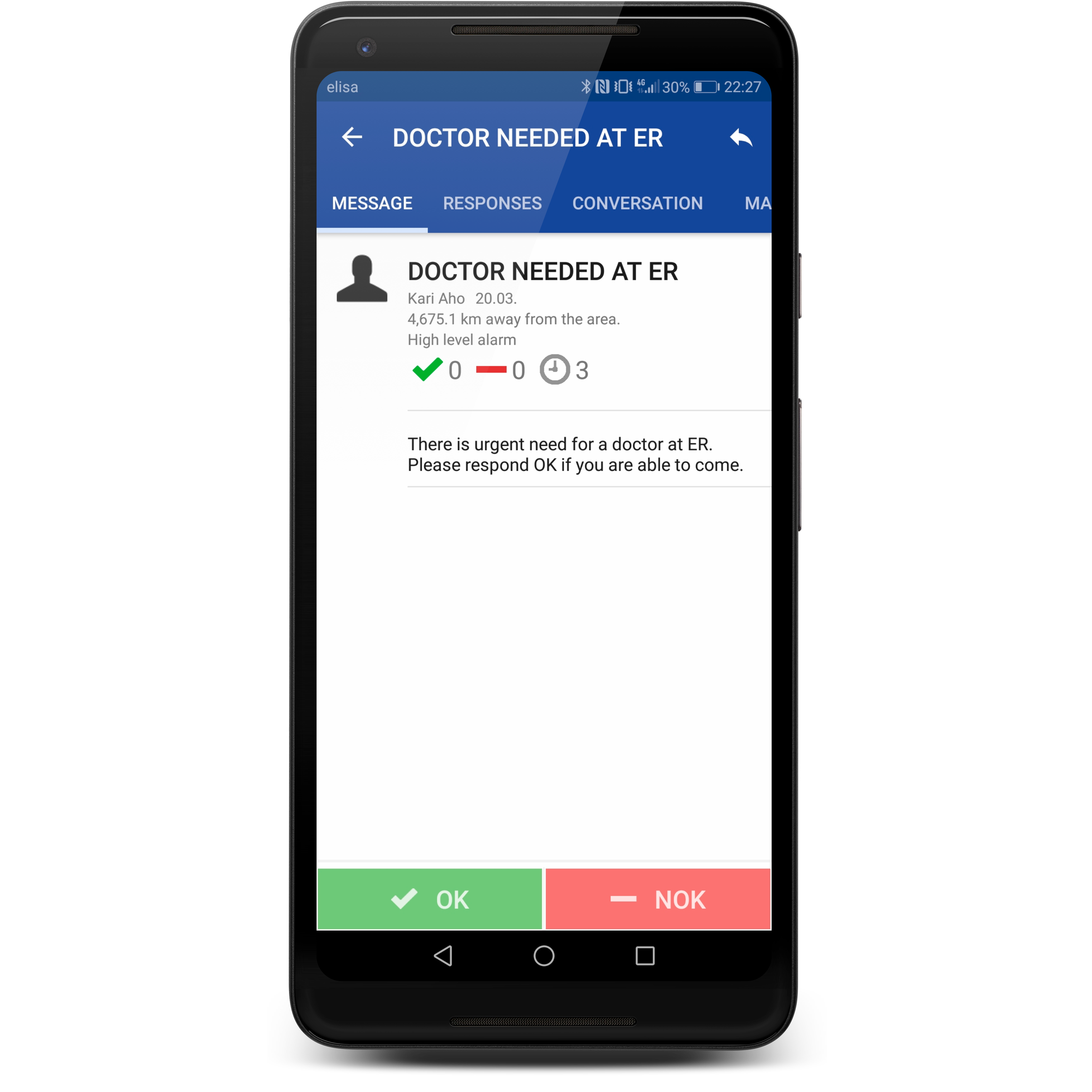 What is it made of?
Secapp helps you alert and reach different-sized teams in seconds. Communication is made easier by ready-made message templates, as you can create alerts suitable for different situations in advance. Alerts can bypass silence settings and demand instant response, ensuring that the needed people are reached immediately. The omnichannel communication is fail-safe and ensures the delivery of messages even if there's a disruption on one of the channels – as needed, alerting can function via fixed, wifi, cellular, TETRA and satellite communication technologies. 
Based on quick responses, the alert sender can see right away who is available. Alerts are integrated with Secapp meet, enabling real-time video calling between the people included in the alert. Each alert also includes a situation-specific chat discussion that gets documented in real time. The documentation allows for retrospective review if there's a need to prepare for similar situations in the future, or to review the course of the situation. Through the chat, people can share information about the incident via text, photos, location information, voice messages and attachment files. Alerts can also include checklists when needed. 
Preparedness
Ready-made message templates for different situations are created on Secapp in advance

Different aspects are defined for the message templates, such as instructions, recipients, and alert priority level

Thanks to message templates, all that is needed in an emergency situation is to select a suitable message template and send it
Alerts
Alerts will be delivered through several message channels to every individual and team defined in the message template

High priority alerts bypass silence settings

Recipients will respond to the alert and indicate if they can participate in resolving the situation.

Secapp can also be used as a personnel alert and work invitation system.