Secapp for Lone Worker Safety helps you significantly improve the safety of your lone working employees – whether it's critical locations and tasks, home visits or night shifts. With our help, your employees can send messages and alerts with a single click, either through mobile devices or a physical safety button. This ensures that help is always just moments away.
Features such as the dead man's switch and immobility alert increase the safety of lone workers by triggering a call for help if the switch is not reset within a specified time or if the user's phone remains motionless for a certain period of time. The alerts can also be linked to location information, so help is always sent quickly and accurately to the right place.
Improve lone working safety
Simplify alert management
Customize the alerting system to your organization's needs
5 reasons to choose Secapp for Lone Worker Safety
Helps fulfill lone worker safety regulation demands.
Send alerts quickly and easily with one click, on mobile device or with physical button.
Dead man's switch automatically triggers an alert for help if the person has not moved or deactivated the timer within a set time.
Efficient and rapid routing of alerts to pre-selected recipients.
Help can be quickly and easily directed to the right location, when the alert includes location information.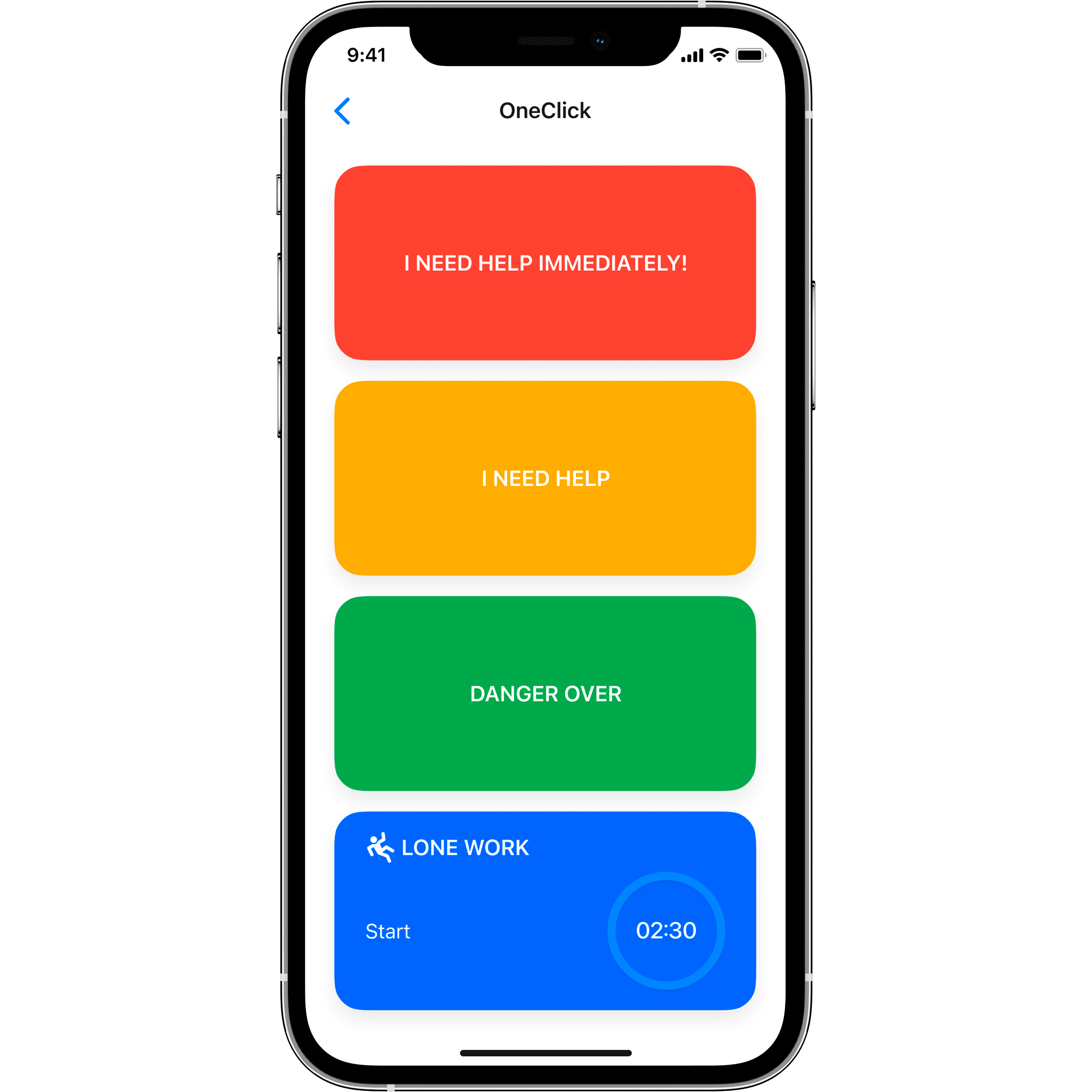 What is it made of?
Using Secapp for lone working safety is a reliable and comprehensive way for ensuring the safety of lone working employees. It offers an easy way of sending pre-set alert messages to chosen recipients, such as the organization's control room or security officer. 
The system consists of the Secapp alerting and messaging system, and especially the functionalities designed for ensuring lone worker safety. The solution integrates with Secapp automated alerts, so it can be utilized for timed check-up messages. In addition to smart phones, this safety feature is guaranteed on legacy devices as the check-up messages can also be sent via SMS or robot calls. Text messages can also be set as a backup channel in case the connection of the device is interrupted. In the case of the dead man's switch, timer information is stored on the server, meaning that the alert is sent automatically after a certain time if not canceled by the user. 
OneClick buttons
Available for existing devices via mobile application

Send messages to security officers or other predetermined recipients with one click

Buttons are available for different operating systems and can be customized individually

Alerts can be triggered via text messages or integrated physical buttons
Dead man's switch
Automatic alert goes out when a worker doesn't check in via app within a set time, or via i

mmobility detection

The alert includes location information, ensuring that help gets to the scene quickly
Secapp can be integrated with systems such as physical safety buttons, enhancing its versatility and usability. We provide comprehensive support to ensure a seamless implementation experience for you.