Secapp's reporting features offer digital tools for organizations to collect critical data and analyze the results. With Secapp the data can be easily collected and processed to larger overall reports without investing in new devices.
The reporting can be done from the very same smart devices the end users already have and the supervisor can see the entire process from start to finish in real time. The same report template can be filled by multiple users at the same time.
The reports can be exported from Secapp to Word and PDF files.
In this article:
Overview
How to create a report template
How to attach a report template to a Secapp message
How to send a report message
How the reporting works: End user
How the reporting works: Administrator
Use case examples
Summary and benefits
---
Overview
Start filling the report by pushing the button in the Secapp message
Use your own device e.g. smartphone or tablet to fill the report
Use integrated chat and video connection to discuss details or to share further information
The reports will be compiled to the Secapp system from which they can be exported as Word or PDF files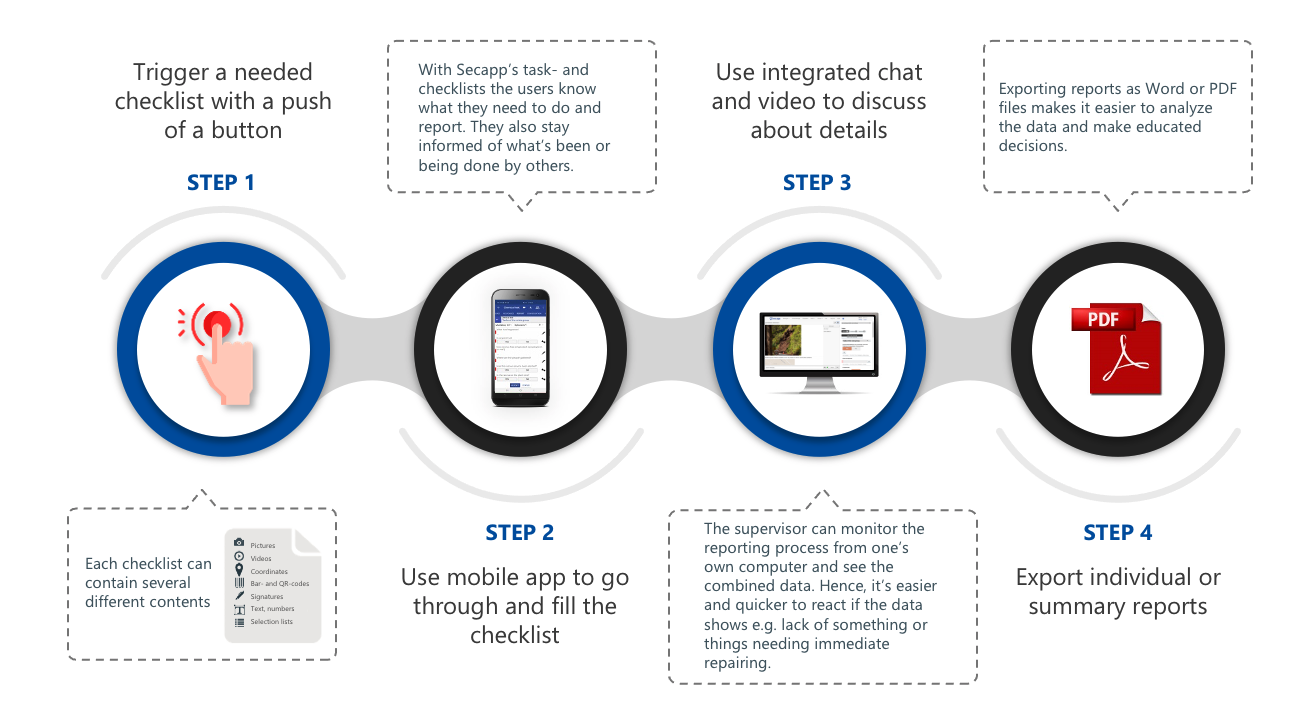 ---
How to create a report template
1. Go to "Documents" on the top row.

---
2. A new window opens at report template management.
Go to "Templates" on the bottom of the left bar
Go to "Job package templates"
Choose "+New job package template"

---
3. Add name for the template and create jobs from "+ADD CATEGORY" button.
Adding categories creates a table of contents for your report template.
Each category forms a "folder" which can be filled with different tasks or titles.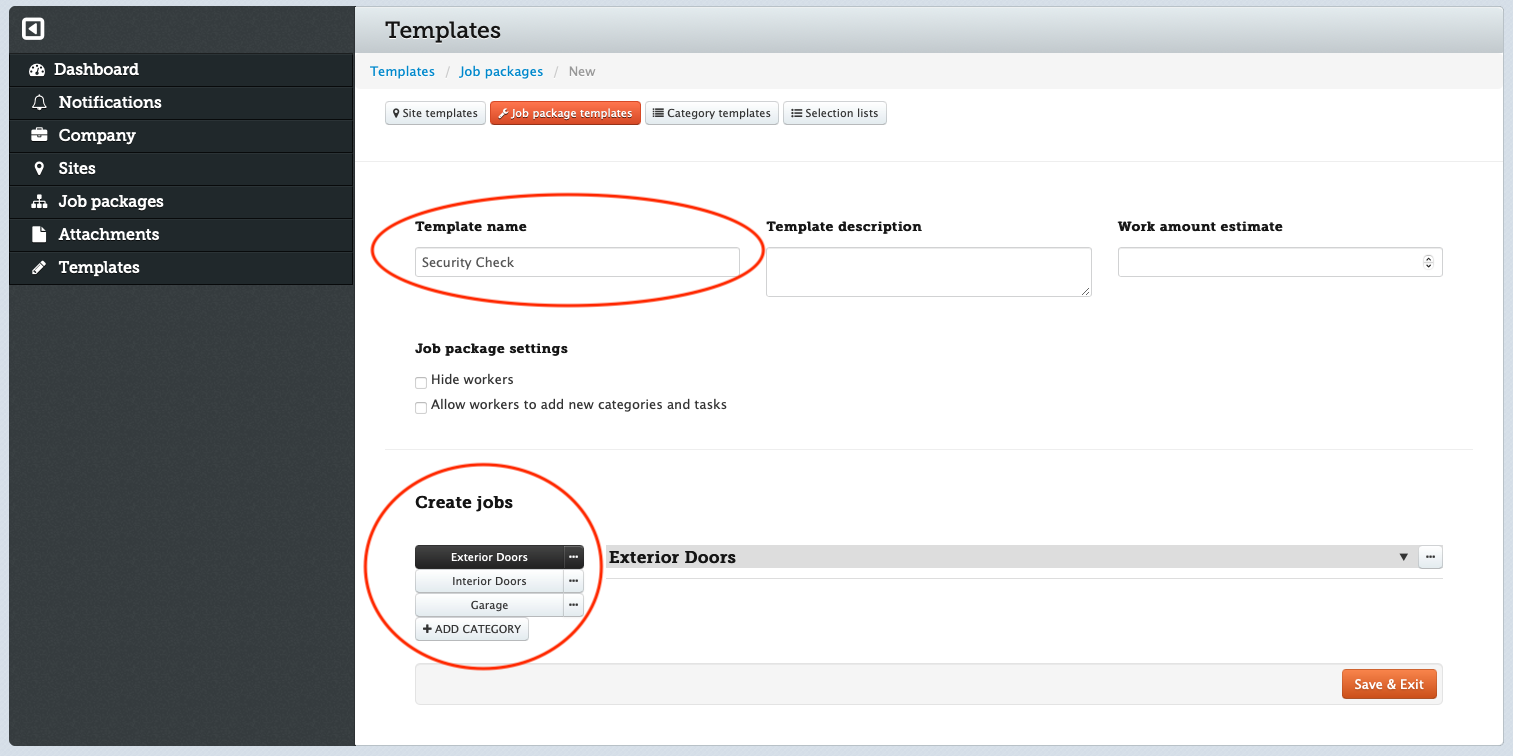 ---
4. Add new task.
Go to the tree horizontal dots on the right side of the category bar
Choose "Add…"
Choose "Add new task"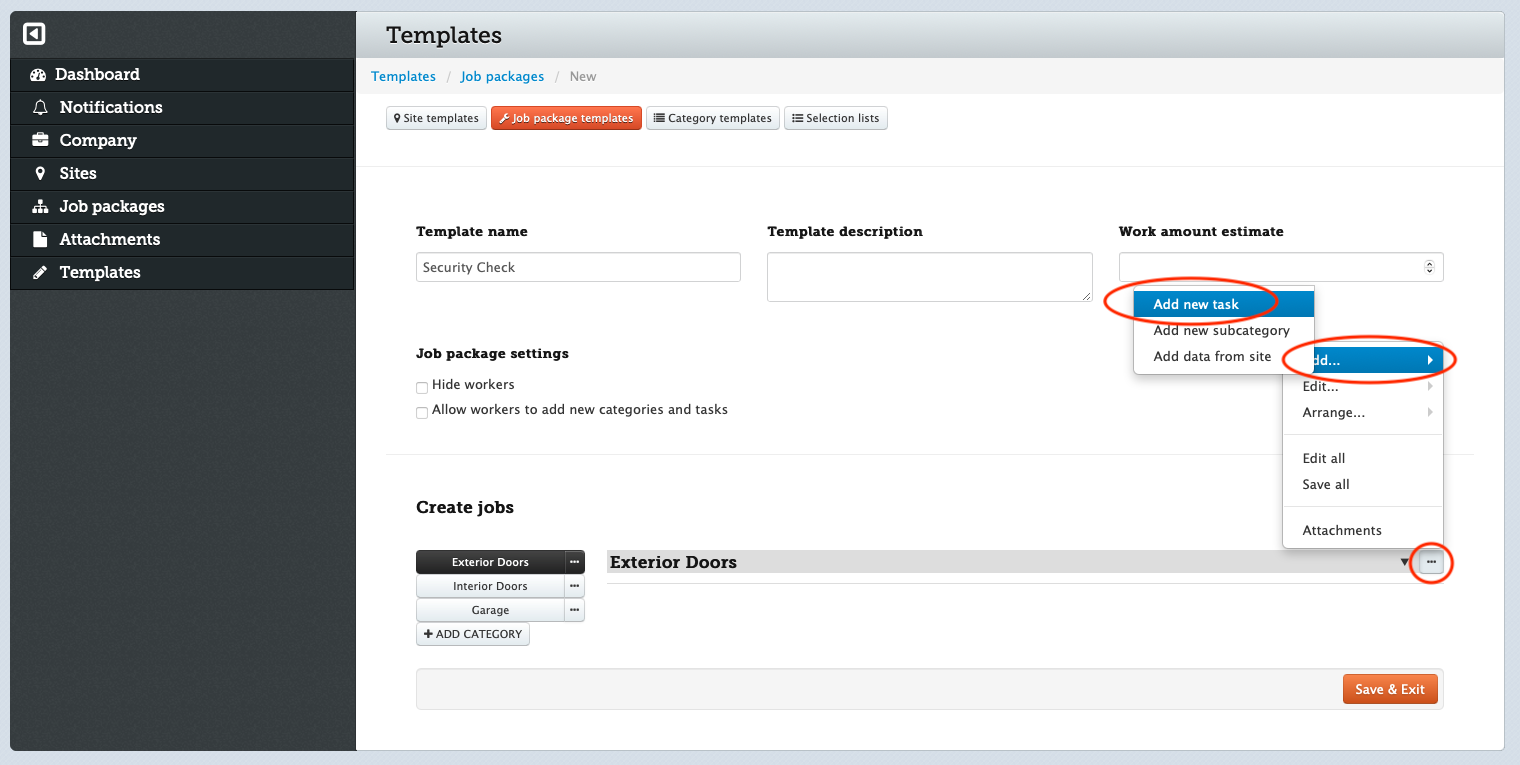 ---
5. Define the task and choose its type (text, date, picture, video etc.) from the list.
Click "Add" on the bottom right corner to add the task under the category.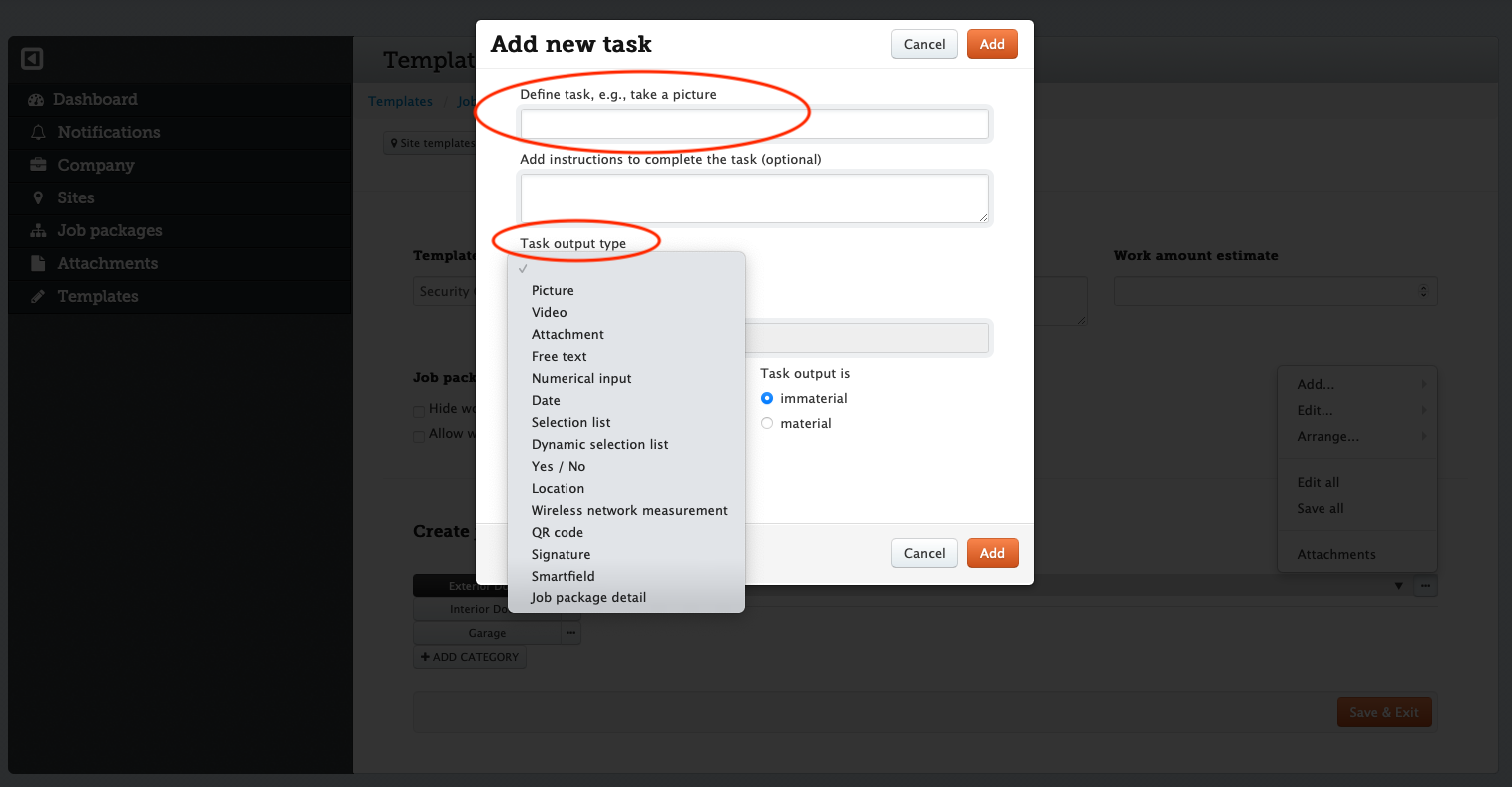 ---
6. Create a selection list. It is suggested to keep two tabs open at this point: one for the main view and one for the selections list's settings. 
Go to "Selections lists" in the templates view.

---
7. Add name and values for the selection list.
Click "Save & Exit" on the bottom right corner after adding the name and values.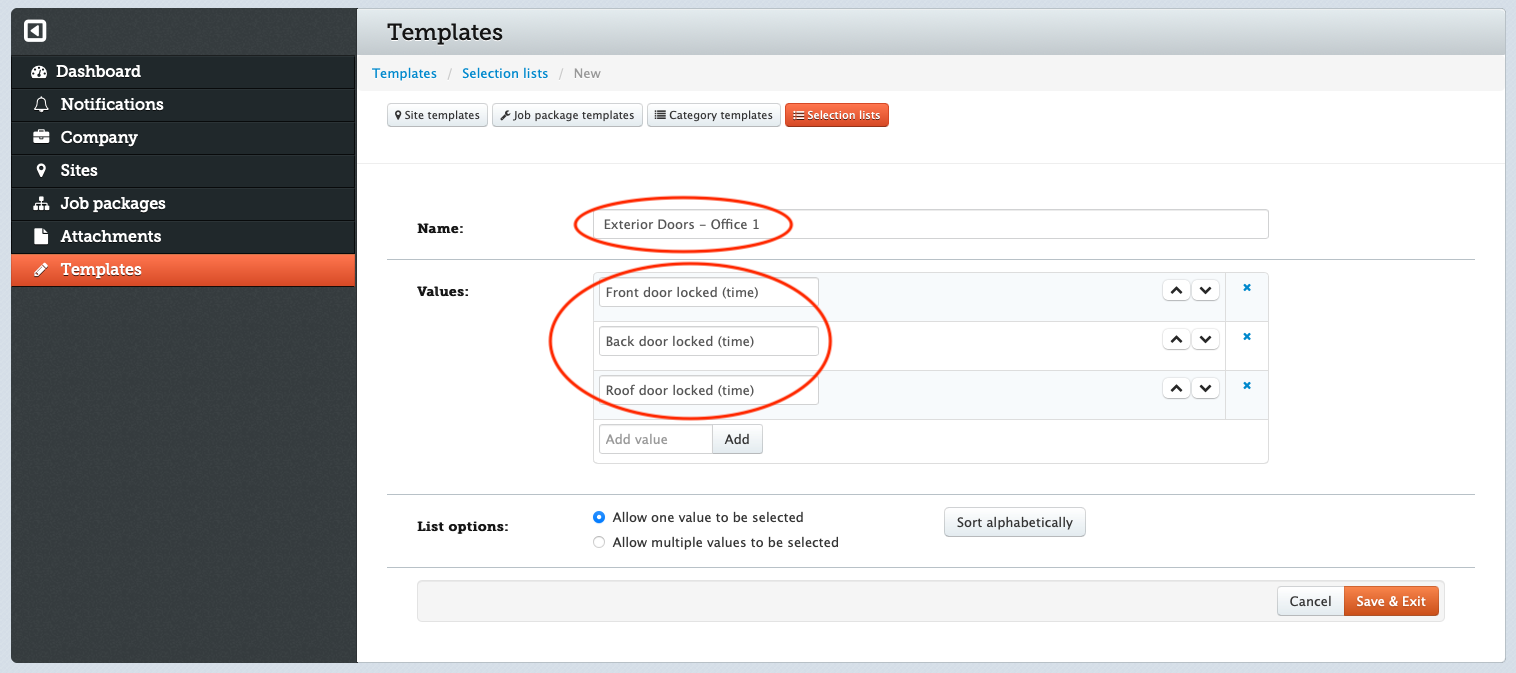 ---
8. When the report template is finished, please return to Secapp template management.
---
9. When sending the report to the responders, please remember to add a message target (existing or new).
Go to "Message target" and click to expand
Which the setting ON
Choose an existing or new target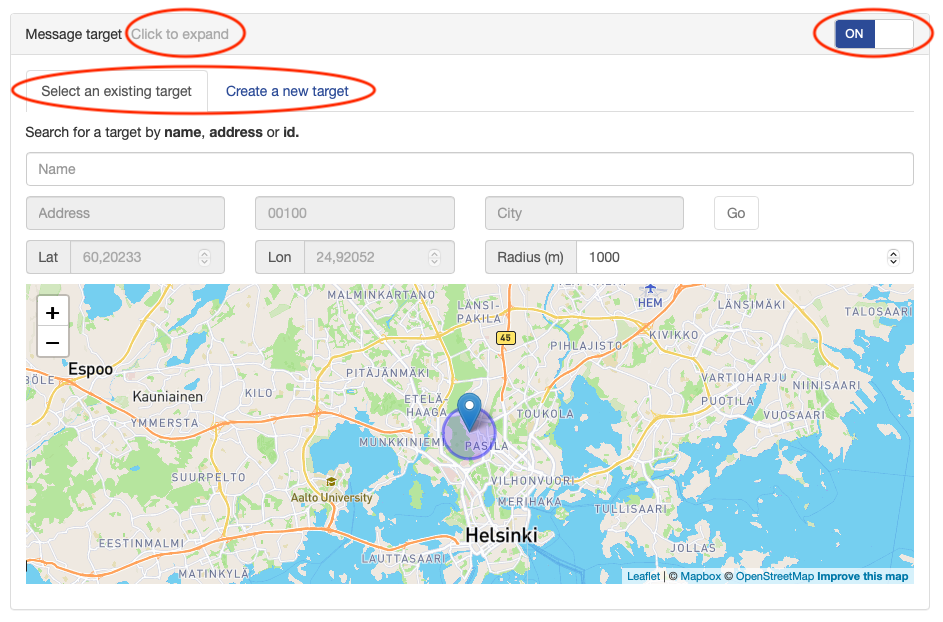 ---
10. Define the other settings of the message template.
Template name
Icon
Choose an appropriate icon for the template
Priority
Low (push notification appears to the screen of a device when the message arrives)
Medium (Push notification appears and a ringtone will play if the sound settings are on)
High (Push notification appears and Secapp will play a high ringtone even if the sound settings are muted)
Send to (responders)
Users: choose individual users as responders
Groups: choose a group or groups as responders
Area: define an area and the responders can be users within the area, users entering the area or users leaving the area.
Groups
You can choose which group or groups the message will be delivered to. In this case Rescue Team and Bio-Hazard Team are chosen to be the responders.
Message Target
Activate this option (ON) and define the target for the report and its historical data. In this case the target could be e.g. a chemical factory.
---
11. Go to "Additional settings" and add the report to the message.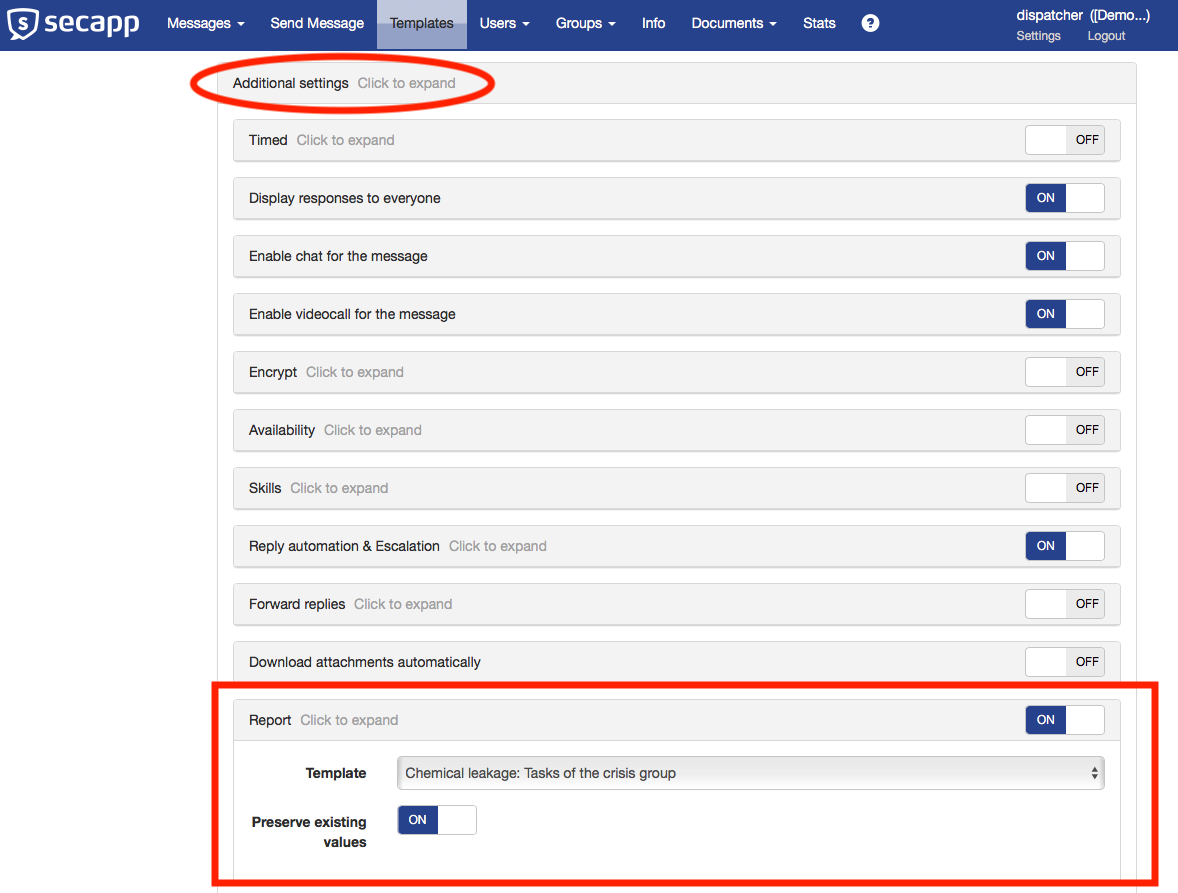 ---
How to send a report message
The report message can be sent from different operating systems:
Computers: web browser and a Windows software
Smart devices: Android and iOS
The sending process can be automated based on time or location or additionally, Secapp's panic button feature can be configured to send the messages.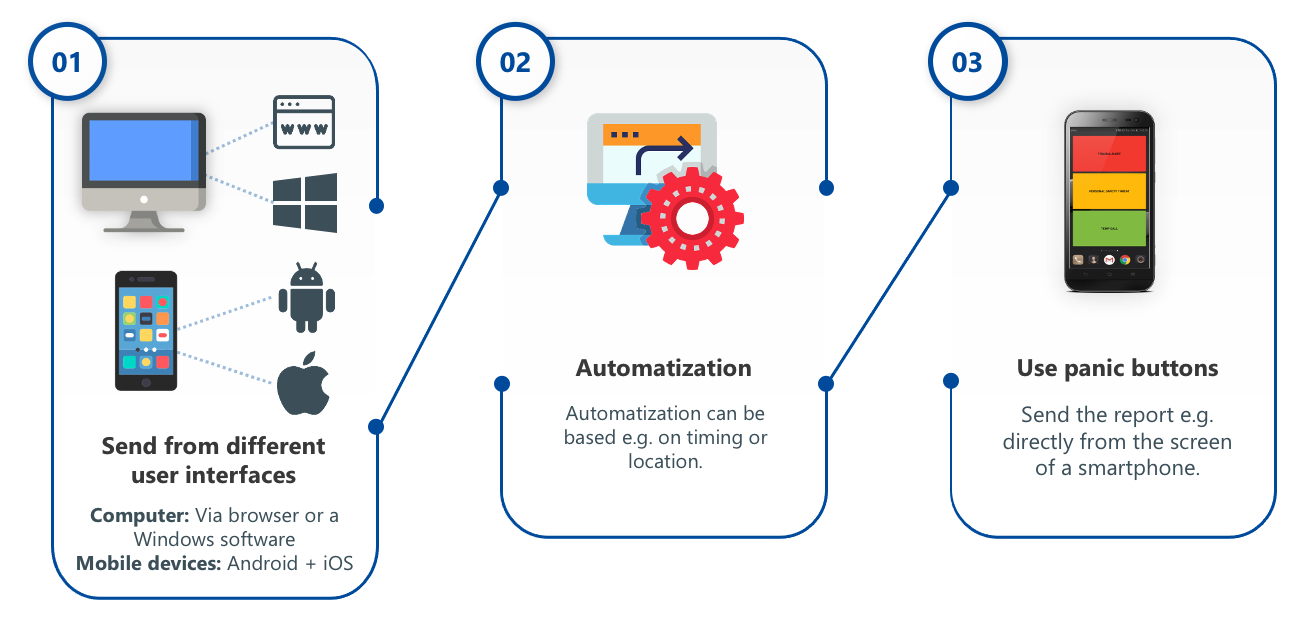 ---
How the reporting works: End user
The responder can start filling the report by just push of a button
The report is filled in the Secapp application by user's own smart device

Several people can fill the very same report at the same time
Reporting can also be done offline
Use integrated chat and video connection for internal communication
Save time by supervising the process remotely

The end user confirms the report is done by simply pushing OK button on Secapp
---
How the reporting works: Administrator
The report can be sent to several people to be filled at the same time
Follow the reporting and its data in real time
Discuss and give instructions using integrated chat and video connection
Manage reports on Secapp or export them as Word or PDF files. Secapp can also be integrated to an external system used by the organization.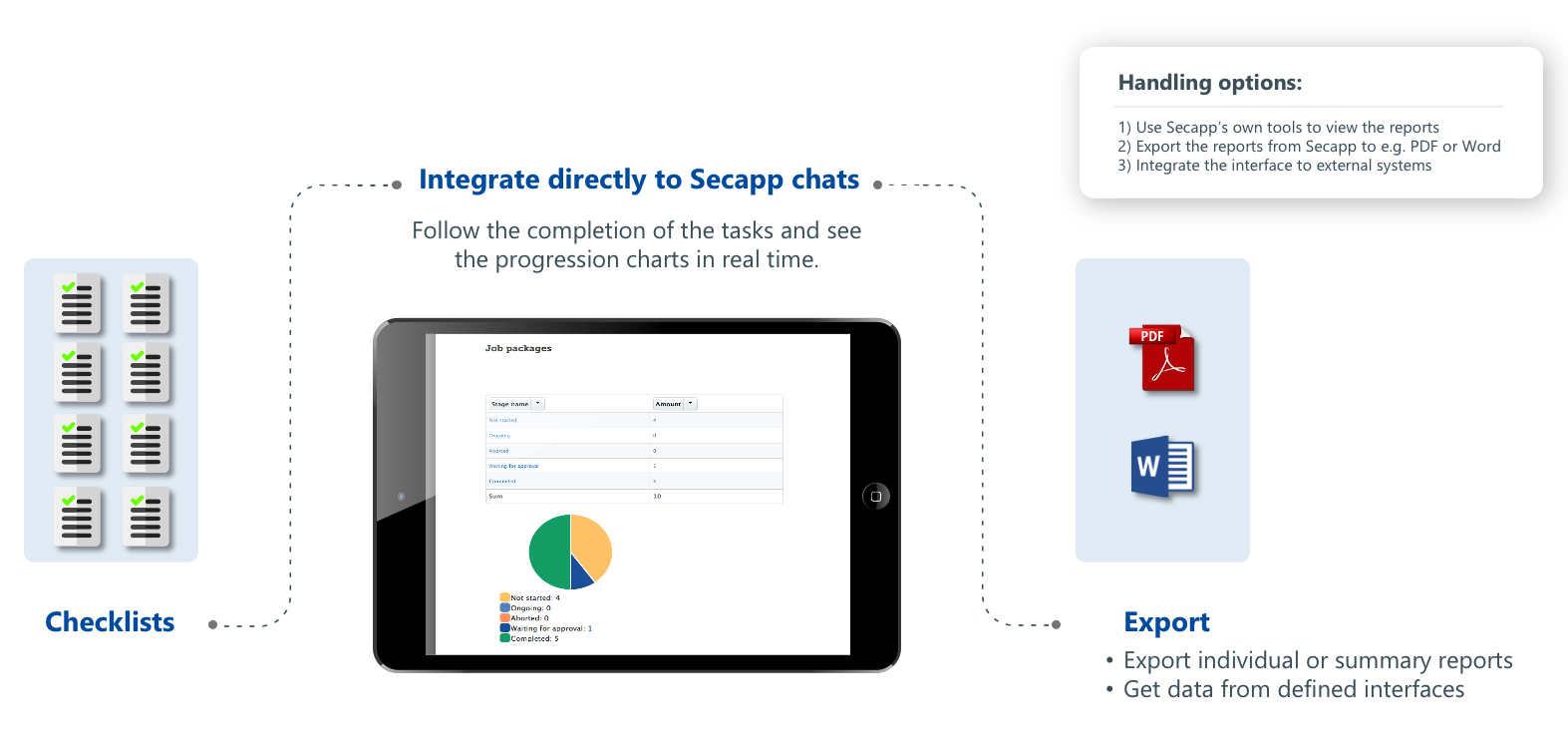 ---
Use case examples
Critical infrastructure organizations
Machine, equipment and facility inspections
Sparepart checks and reorders
Safety walks and observation reporting
Cities, municipalities, government agencies and offices
Facility checks
Safety walks and observation reporting
Information Technology inspections
Fire and Rescue Services
Equipment and condition checks for fire truck and ambulances
Reporting and monitoring equipment maintenance cycle
Mission reporting
Hospitals and healthcare
Amount and condition of medical equipments
Amount and condition of medical devices
Medical facility inspections
Schools and academies
Property inspections
Crisis communications (e.g. checking whether all students are at the evacuation point)
Property owners (shopping malls, office buildings)
Shopping centre equipment inspections (fire alarms, emergency exits etc.)
Checklists for closing an office building (empty office rooms, lights off, doors locked etc.)
Security Companies
Inspections of guarded areas (e.g. condition of surveillance cameras, gates, doors, hallways)
Volunteer organizations
Animal stable inspections (amount of water, animal feed etc.)
Equipment inspections at volunteer fire departments
Mission reporting
---
Summary and benefits
The end user can start filling a checklist simply and quickly by pushing just one button.
Secapp's lists are not only static lists but include a variety of features such as integrated chat and video connection.
Extensive reporting capabilities: combination of already made reports that can be exported e.g. for comprehensive files.
Features, settings and content can be easily modified which means Secapp is adjustable for all organizations.