What is Secapp?
Secapp is a Finnish critical communications and alerting SAAS platform. It is built to broadcast mass notifications, alert individuals and teams, collect critical data and provide secure real-time chats and videos. All this in a platform where the data remains secure and owned by the customer.
Ultimately, Secapp can help to save lives and manage critical operations in times of crisis.
Quick intro to Secapp Team
Secapp team has built in the past future mobile communications technologies and highly scalable software for Nokia, European Space Agency and other mission critical domains. The team has over 20 years expertise in different fields: sales and marketing, finance, and software and ICT solutions.
Customers from 10 countries
Over 100 000 end users from over 600 critical organizations
4 million alerts related sent last year alone
Company growth during 2020/COVID-19: +100%
Partners and distributors from device and network vendors, telecom operators and security companies worldwide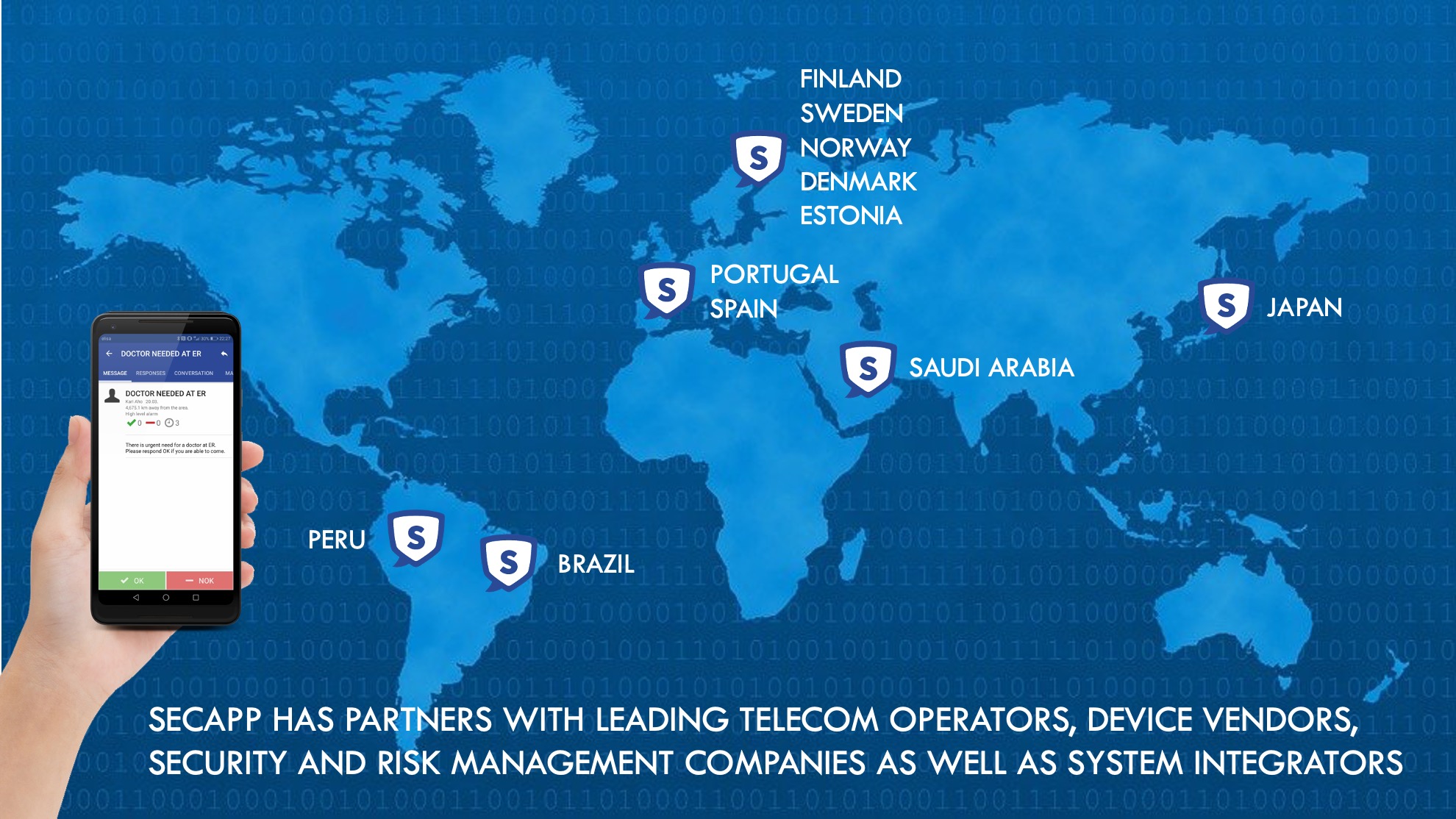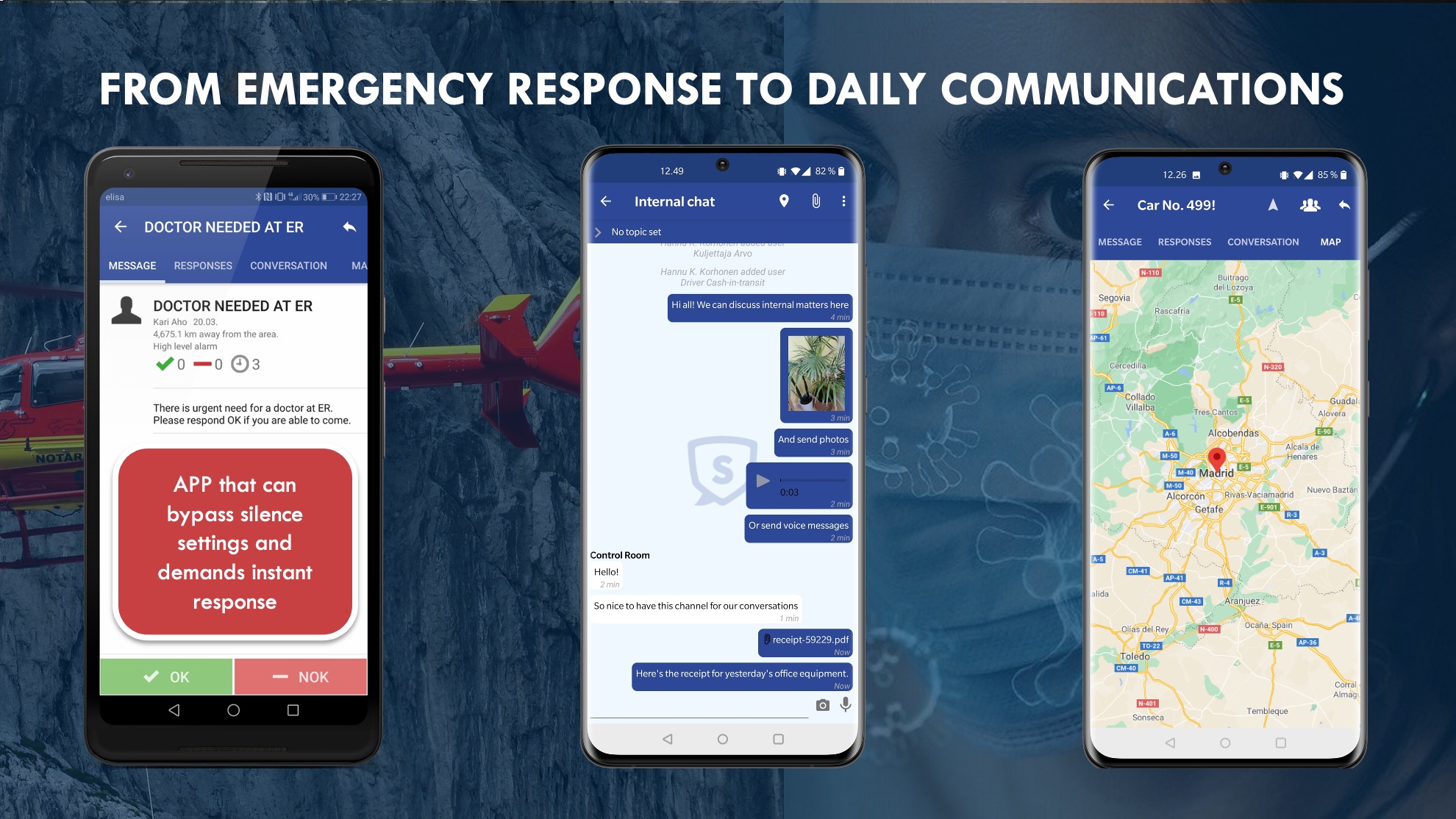 From emergency response to daily communications
Every second prolonging an alert in emergencies or incidents can mean loss of lives or at least substancial costs due to not being able to run critical operations normally.
How are you prepared?
How fast can you react?
How can you make sure that you reach correct individuals day or night?
Effortless critical communications, alerting and safety
Secapp is SAAS service for effortless critical communications, alerting and safety that captures your attention when needed.
Prepare to incidents and crises beforehand
Send critical alerts and notifications that demand instant response
Use mobile checklist to collect and report critical data and findings
Communicate with vital stakeholders in a secured environment
Guarantee lone worker, travel, premises and VIP safety
Technical features
Alert templates, contact and asset management
Mass notifications, personnel alerting and paging
Panic buttons and Dead Man's Switch
Secure chat, video and checklists
Location awareness and geofencing
Secapp integrates to external systems and works with any device!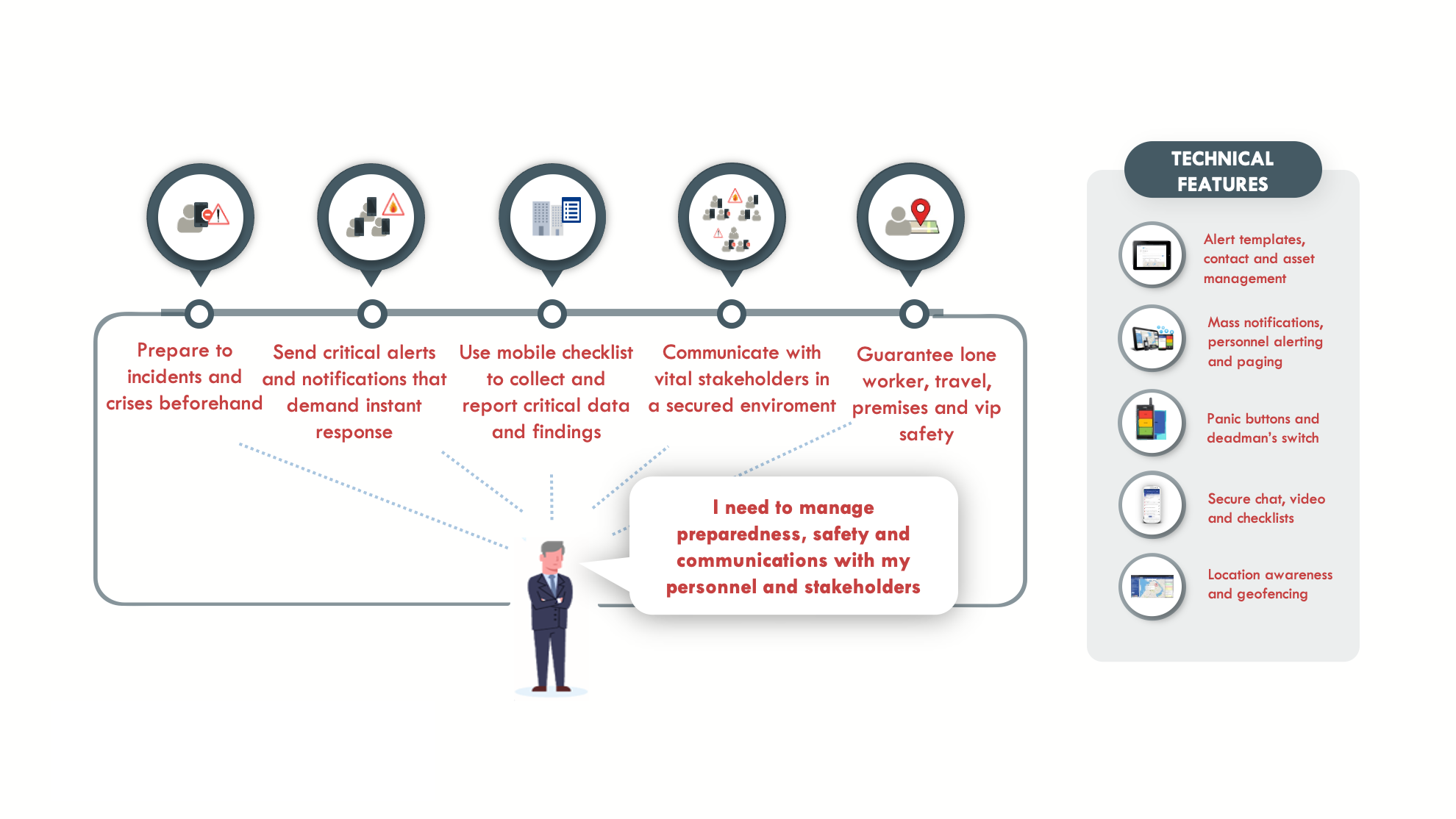 Mobile Safety
Secapp offers versatile tools for improving personnel safety in different situations.
Physical and mobile alert buttons
Physical and mobile alert buttons allow users to send messages and alerts with just one tap. The buttons can be used, for example, to call for help or to report an anomaly or fault.
The dead man's switch
The dead man's switchallows automated alerts in case the user doesn't reset a timer or the user's phone doesn't move within a predefined time period.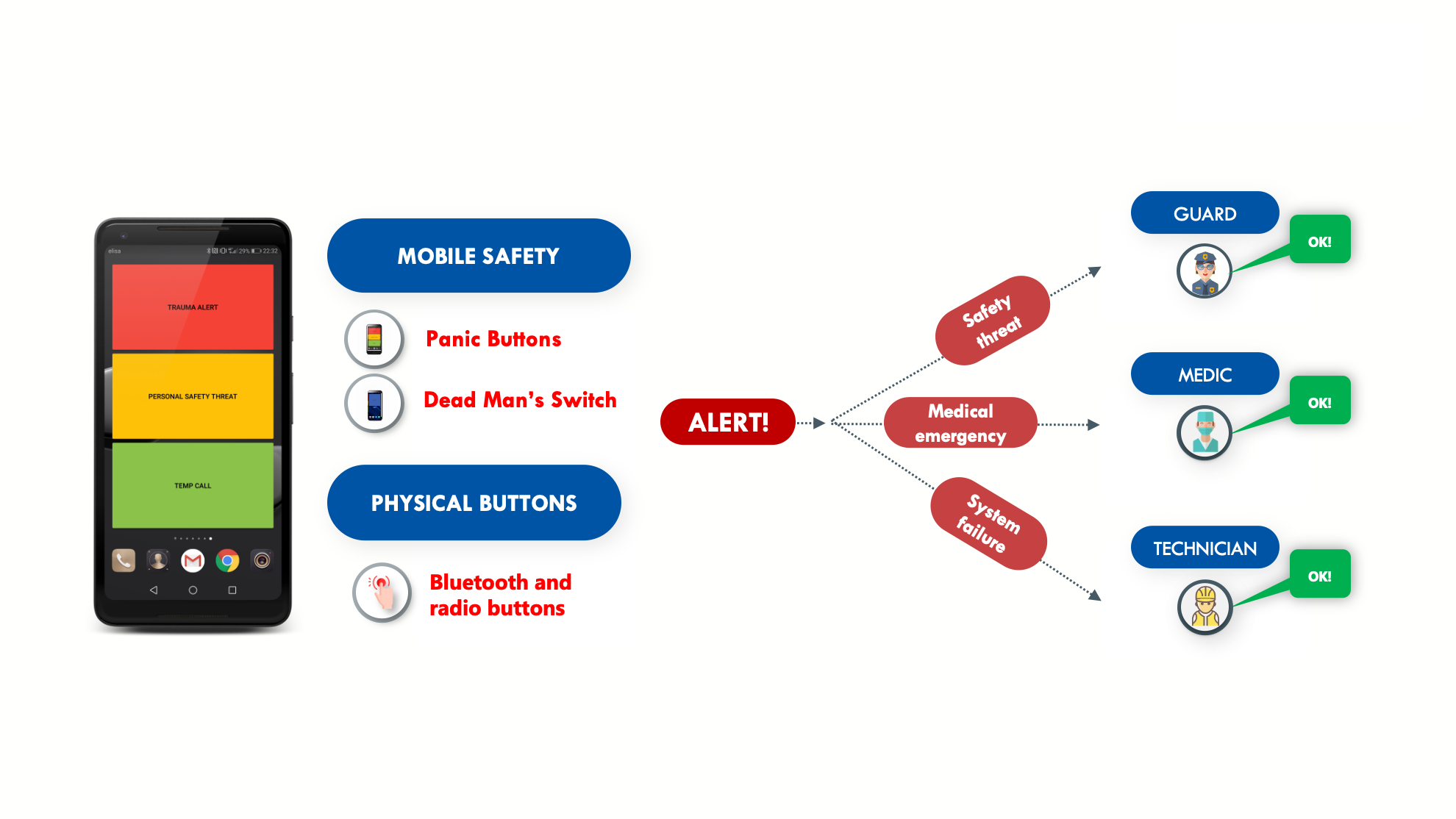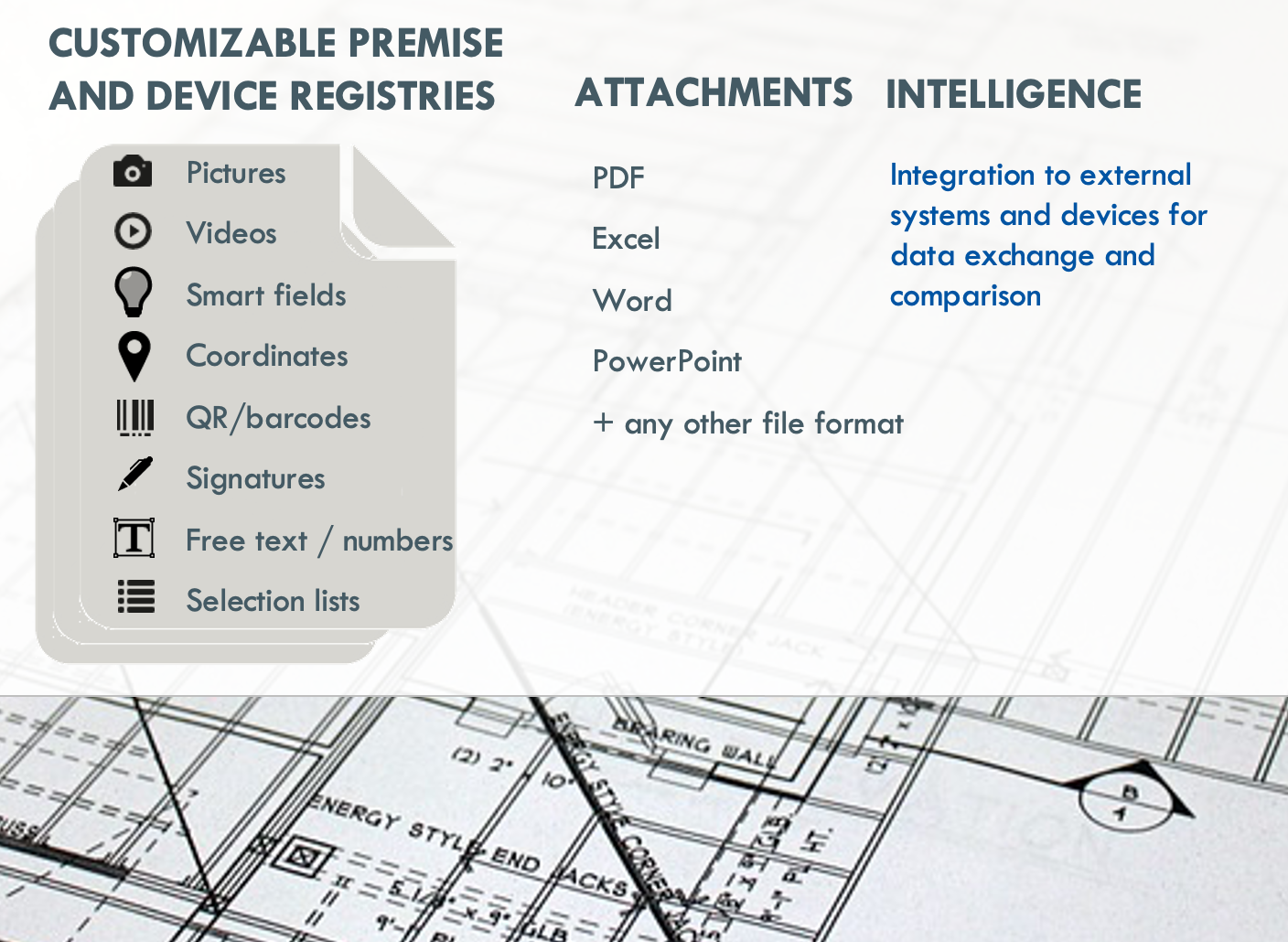 Site, Asset and Device Registries
Customisable premise and device registries
Manage your site, asset and devices documentation and related operations via web and mobile tools.
Document and attachment management
Compile relevant attachments together with other relevant site, asset or device data.
Security by design
Share access to the data securely.
Private industry
Properties
Security
Utilities
Production
Industry
Oil and gas
Public sector
Cities
Education
Government agencies
Authorities
Hospitals and healthcare
Fire and rescue
Police
Use Cases and Key Contacts
Crisis and Safety Sanagement
Prepare and react to extreme weather conditions, accidents, fires, medical emergencies, terrorism, threats, vandalism, civil unrests in seconds. Demand instant response from responders.
Key contact: Head of Security and Risk Management (HESQ)
Daily HR Paging and Workforce Management
Allocate and coordinate urgent tasks and teams OR get a temp / freelancer with correct skills for a work shift. Replaces: traditional pagers, calling people individually, Mass SMS gateways, consumer chat services.
Key contact: Head of Human Resources or operations
Mass Communications
Exchange vital information in crisis between relevant stakeholders. Omnichannel communications makes sure that you reach needed individuals.
Key contact: Head of Communications
Critical Operations and Asset Data Management
Collect and maintain up-to-date information related to your sites, assets and operations.
Key contact: Head of Operations
Secure Team Communications
Secure and improve internal and stakeholder communication. Comply with privacy policy requirements and own your data. Replace consumer chat apps like WhatsApp.
Key contact: IT Services
Sales Cycles
Private industry
Short (1-3 months) to Medium (3-6 months)
Public sector
Medium (1-3 months) to Long (6-18 months)
Authorities
Medium (1-3 months) to Long (6-18 months)
Market Data
Incident and emergency management market size alone is USD 117.2 billion in 2020 (approx. 100 billion euro).
Public safety and security market is USD 365 billion in 2020 (approx. 300 billion euro).
We are looking for distribution partners
Device and network vendors & operators

Security, risk management and service providers

Technology and platform partners

What we have to offer?
Continuously evolving SAAS service for critical communications
Sales and marketing support, training and success stories
Technical support and best practices for sales
White labeling, self-hosted and software SDKs
Secapp partnership models
1. Affiliate / lead generator partner
Where the partner simply points out validated customer leads towards us and we take it from there. Leads that end up into commercial customer relationships will entitle to a commission fee.
2. Distributor partner
Where the partner takes an active role in the customer relationship covering sales (supported by us), agreements, invoicing and first point of contact in terms of support or additional sales. In this model, the commission is continuous and it provides the opportunity for the partner to combine other services, devices or subscriptions as part the agreement with the end customer for additional revenue and higher loyalty.
3. White label partner
Where the partner covers the same responsibilities as the solution partner but in addition Secapp is rebranded as the partner's own product and hosted in an on-premise environment provided by the partner. Secapp takes the responsibility of providing the technology then as white-label-as-a-service type commitment where the Secapp team manages the software and apps on behalf of the partner against fees. White label partner is responsible for providing the look and feel for the design (re-branding) of the product and virtualized server environment for the technology.
Contact us
Would you be interested in to be our distribution partner?
Contact us already today or leave us a message and we will get back to you shortly.